Catherine is the second youngest of the five sisters, at age 17. While not as strong-willed as her sister, Lydia, the two sisters together tear the mother's nerves into shreds. She is approximately seventeen years of age.
According to Jane Austen's relatives, she revealed to them that Kitty later married a clergyman near Derbyshire.
Bennet Family
[
]
Appearance
[
]
Kitty is described (in the novel) shorter than Lydia and prettier than Mary. In the movie she has light skin, brown eyes and dimples. She likes to wear her hair similar to Lydia in curls.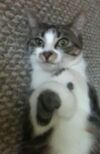 Within The Lizzie Bennet Diaries, Kitty is not present as an acting human, but the Bennet family has a cat named Kitty, in reference to the Pride and Prejudice character.